30 sounds scary right? But for me it is only a few years away and as much I talk about having plenty of time left, I can not help but feel time is slipping away from beneath me. With almost less than 3 years before I hit that big 30, I have decided there are some things I would like to accomplish before then. I understand some will take time but that is ok. I want to enter my thirties feeling content with what I have achieved and less stress with the ways in life. So here is my 30 before 30 list: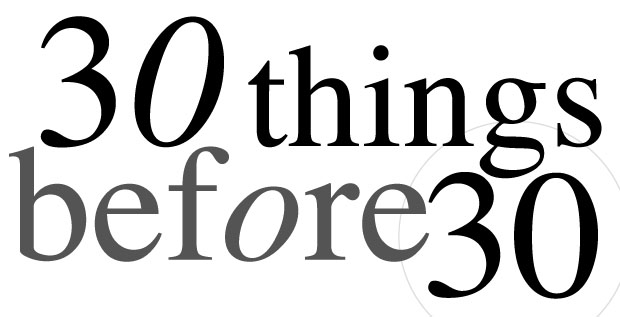 1. Complete University with a degree in nursing.
2. Visit New York (a must)
3. Have another baby, fall pregnant or start trying (after my degree) -
Being a mum of two already and as much as I am content I still feel like I am not done with having children. One more and that is all but for now I need to complete my degree, achieve more and create a few memories with my little family first.
4. Have a spa day/weekend.
5. Be more happy and confident in my own skin.
6. Gain more energy.
7. A weekend to Paris with the husband.
8. Eat more healthier (hard with being a fussy eater)
9. Take up running.
10. Travel and experience more places.
11. Spend a lot less time on my phone.
12. Look after myself more.
13. To spend more time on my blog.
14. More family time.
15. Read more.
16. Appreciate my husband more.
17. Attend a concert (last one was a good 7 years ago)
18. Participate and complete race for life.
19. Learn to take better care of myself.
20. Learn to apply make-up better (contour)
21. Learn to love life.
22. Stress less.
23. Learn how to take better photos.
24. Travel to Florida.
25. Say yes to more opportunities.
26. Cook more homemade meals.
27. Swim with dolphins.
28. Move into a bigger house.
29. Get a tattoo.
Considering I am scared of needles, for me this is a big one. I did say however if I succeed in my career I will get a small tattoo to remind myself that I achieved my dreams.
30. Give blood.
Again slightly a tough one considering I am not that good with needles. I have got better considering in 2017 I had a total of 9 needles throughout and 2 more so far in 2018. I even watched myself have a blood test. If I can I would love to give blood.